Biomedical Applications using TracePro
Enhanced Life Science Research and AcceleratedBiomedical Product Design in a Single Tool
Life Science Research & Discovery
Optical modeling for life science research requires an extraordinary degree of interdisciplinary collaboration among medical doctors, life scientists, and biomedical design engineers.
TracePro offers:
Intuitive Modeling Environment

Collaboration

-

Enhancing Features

Full Spectrum Analytical Capabilities

Real and Simulated Specimens
TracePro has enabled research discoveries in:
Flow Cytometry and Cell Imaging
Pulse Oximetry
Tissue Characterization (In-Vitro & In-Vivo)
Molecular Spectroscopy
Microscopy
Laparoscopic Endoscopic Single Site (LESS) Procedures
Noninvasive Glucometry
Heart Rate Monitoring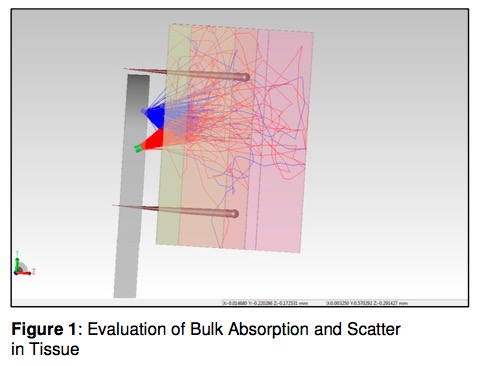 Biomedical Device Design & Development
Biomedical device manufacturers are facing pressure to decrease time to market, while dealing with increasingly tighter R&D budgets and significantly higher cost barriers for certification.
TracePro provides:
Intuitive CAD Interface

Interoperability

with mechanical CAD software

Unsurpassed

r

ay

t

racing

p

erformance and

a

ccuracy

Interactive Optimization

Powerful

v

isualization and Photorealistic Rendering
TracePro provides a high-output design environment for biomedical optics product design and development, with a proven track record in successful biomedical device development.
TracePro has specifically enabled new product design and innovation for:
Biosensors
Laser and LED Surgical Devices
Surgical Lamps and Special-Purpose Luminaires
TracePro's
intuitive design environment, combined
with interactive optimization, visualization and
photorealistic rendering capabilities, and award
-
winning performance and accuracy, helps produce
highly successful designs.